Border Union (Kelso) Show & Scottish Branch National Show 2014
Date: 26th July 2014
Judge: Mr Andrew Gilchrist
Tup Two Shear & Over (2)
Shearling Tup (8)
Tup Lamb (9) born before 15/02
1st  A J Thorburn

2nd Carol E Calder

1st Colin & Helen Duffy

2nd Nicola Henderson

3rd A J Thorburn

4th Kaleen Shaikh

5th M Simpson

6th Carol E Calder

1st A Baird

2nd Colin Rae

3rd Nicola Henderson

4th Colin & Helen Duffy

5th Kaleem Shaikh

6th A J Thorburn
Ewe (12)
Gimmer (16)
Ewe Lamb (14) born before 15/02
1st A J Thorburn

2nd T W & S P Donnelly

3rd Colin Rae

4th Nicola Henderson

5th Nicola Henderson

6th A J Thorburn

1st Cameron Cormack

2nd Colin & Helen Duffy

3rd Cameron Cormack

4th A J Thorburn

5th Nicola Henderson

6th Nicola Henderson

1st Colin Rae

2nd A Baird

3rd Colin & Helen Duffy

4th Kaleem Shaikh

5th T W & S P Donnelly

6th Nicola Henderson
Tup Lamb (4) born after 15/02
Ewe Lamb (5) born after 15/02
Group of Three (6)
1st Nicola Henderson

2nd A J Thorburn

3rd Carol E Calder

4th Carol E Calder

1st Gillian McIntosh

2nd A J Thorburn

3rd Kaleem Shaikh

4th Cariol E Calder

5th A J Thorburn

1st A J Thorburn

2nd Colin Rae

3rd Nicola Henderson

4th Kaleem Shaikh

5th M Simpson

6th Carol E Calder
Breed Champion: Cameron Cormack with his Gimmer

Reserve Champion: Colin Rae with his Ewe Lamb

Best Opposite Sex to Champion: Colin & Helen Duffy with their Shearling Tup

Best Bred by Exhibitor: Colin Rae

Best Novice: Colin & Helen Duffy
Many thanks goes to John Swan Ltd, BOCM, MSP, Carrs Billington and Harbro for sponsoring prizes for some of the classes.
A thank you also goes to Wilma Craig and Carol Calder for making some delicious homebakes which were thoroughly enjoyed after the judging had finished.
Breed Champion: Gimmer from Cameron Cormack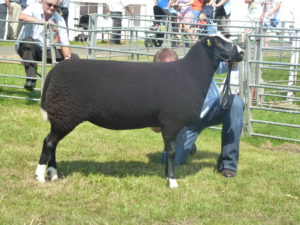 Reserve Champion: Ewe Lamb from Colin Rae
Best Opposite Sex to Champion: Shearling Tup from Colin & Helen Duffy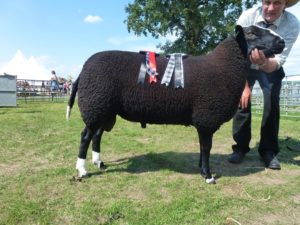 Photographs kindly supplied by S Rendall.