Zwartbles Premier Sale Tops at 3000gns
The first Premier sale held at Harrison and Hetherington Carlisle on behalf of the Zwartbles Sheep Association saw a top price of 3000gns for a shearling ram Wallridge Moor Ajax bred by Caroline Anderson Ingoe Northumberland and selling to Northern Ireland breeder J Porter's Gillhall Flock Lisburn. Ajax stood first in his class and reserve male champion at the previous night's show.
Other leading shearling ram prices were 1100gns for Smiddy Hill Alfie from C & H Duffy Stranraer selling to an undisclosed buyer from Ireland and 900gns for Hillside Amazing from C Holden Oswaldtwistle Lancashire to C Middleton's Mittonvale flock Clitheroe Lancashire.
Topping the ram lambs at 1550gns was East Middle Ben Nevis from Charles Scott Hawick selling to Heather Hourston's Didcot flock Orkney. Other leading ram lamb prices were two at 1500gns from G A & H M Francis Pistyll Boomer who was the overall supreme champion in the show and sold to L Crum Cunninghamhead's Torranyard flock near Ayr and for the same Wallridge Moor Blaxster from C Anderson Ingoe selling to J Campbell Croy Cunningham Head Farms Glasgow and at 1450gns Wallacetown Barney from C & S Rae Collin Dumfries selling to S Elliot's Cavers flock Hawick.
Aged rams topped at 750gns twice for Pendle Wide load from I & T Hartley Lancashire selling to G A & H M Francis Carmarthen and Killymallaght Wolfman from A & R Megarrell Londonderry to H Mc Cornick's Stewarton flock Newton Stewart.
In the female section aged ewes topped at 500gns for Blacklee Seana from J Scott Kirklinton selling to Mark Wilson's Helmbeck flock , Appleby ,  Cumbria.
Shearling gimmers topped at 850gns for Killymallaght Awesome from A & R Megarrell Londonderry selling to R Douglas's Hopefield flock Kinross further leading gimmer prices were at 750gns for Wallridge Moor Aurora again from C Anderson Ingoe selling to Master Dixon Aspatria's Beech House flock and two at 500gns a Pistyll gimmer again from G A & M Francis selling to Peter Walton Earlston's Beechwood flock and Scottfair Allysia Jo which sold to W E Dickin's Lanehead flock Halifax.
Ewe lambs were a flying trade and topped at 1400gns twice for Joyfield Bonnie from J Millar & J McKenzie Lockerbie which sold to S Baird's Lochwood flock Moffat and Broomfield Breeze from A Baillie & T Jackson's Lanarkshire selling to David Moir's Cairness flock Aberdeen. Further leading ewe lamb prices were 1000gns for Pendle Black Liquorice from I & T Hartley Nelson Lancashire this lamb being the female and reserve overall champion in the previous night's show selling to B Scott's Speyside flock Banffshire and 820gns for Thistledome Blue Arc from K Shaikh Glasgow selling to R Heigh's Brookdene flock North Yorkshire.
Non Mv's topped at 250gns for a shearling ram Noville Angus from M & B Lightburn Penrith selling to I & R Watson Bishop Auckland's Hinedon flock whilst females topped at 160gns for Rietfontein Ailsa from A Roper Cleatormoor selling to  R Bodle Newton Stewart.
Averages:
3 Aged Ewes                                       £266.00
55 Shearling Ewes                              £306.03
63 Ewe Lambs                                    £313.50
2 Aged Rams                                     £787.50
10 Shearling Rams                             £746.55
37 Ram Lambs                                  £545.15
4 Non MV Aged Ewes                        £168.00
2 Non MV Shearling Gimmers             £168.00
4 Non MV Ewe Lamb                          £102.38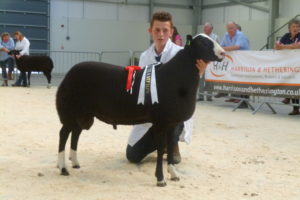 G A & H M Francis Pistyll Boomer who was the overall supreme champion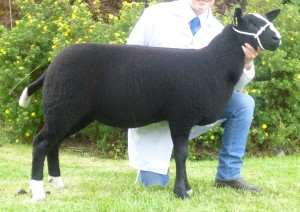 Pendle Black Liquorice from I & T Hartley reserve overall champion
Top price 3000gns, shearling ram Wallridge Moor Ajax from Caroline Anderson