Zwartbles Top at 1900gns
Killymallaght Enrique
The premier sale at Carlisle attracted some furious bidding for attractive sheep. The top price at the thirteenth sale was a bid of 1900gns paid by R Heigh for his Brookdene flock Bentham. Killymallaght Erinque a Febuary born ram lamb was bred by R & A Megarrell Co Londonderry. Next was the male champion from the same home another lamb at 1800gns Killymallaght Enigma sold to F Wilkies Whitestone flock Aberdeenshire. A further three ram lambs made over 1000gns H Sloan's Top Notch Eurostar at 1450gns and Top Notch Eyecatcher at 1050gns selling respectively to D Cashel Fermanagh's Hillview flock and FIO McCall Co Armagh. The third sold at 1300gns to H Sloan Hayberries Executive bred by S and P Addison Barnard Castle.
Shearling rams topped at 14oogns another from H Sloan Top Notch Dynamo also the reserve male champion sold to M Thompsons Farloughs flock Co Tyrone. Next one at 1250gns Didcot Dolomite from H Hourston Orkney selling to S Smyths Bessiebell flock Co Tyrone and at 1200gns for Joyfield Dolcegabbana from T and I Goldie Dumfries selling to I Crabtrees Crabetree flock Derbyshire.
Aged tups sold to a t top of 800gns Brotherton Crawter from K Shaikh sold to H Pritchard Newcastle Upon Tyne.
Females Topped at 1800gns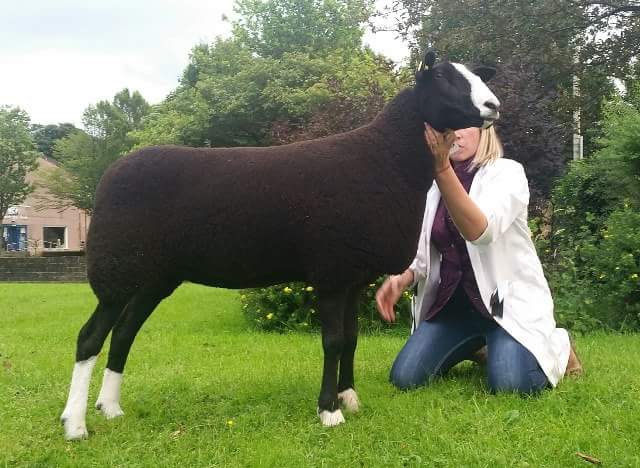 Killymallaght Dixie
Following the sharp ram trade the females topped at 1800gns for the reserve female and reserve overall champion Killymallaght Dixie again from R and A Megarell sold to D Brisbane's Auchmantle flock Stranraraer. Next anther from the same home Killymallaght Damsel selling at 16oogns again to D Brisbane's flock.
Ewe lambs topped at 1200gns from McLaren and Baird Stirling Greystone Eden selling to G Booths Megaboo's flock Keithley. Then two selling at 1050gns and 1000gns both from S Smyth Bessiebell Eye Opener and Bessiebell Emz sold to S Stewards Janetstown flock Banffishire and J Millars flock Lockerbie. The Overall Champion from T and S Donnelly Saltur Ellie sold at 800gns to P and S Addisons Hayberries flock.
Saltur Ellie
Sale averages:
51
Shearling Gimmers
£395.7
16
Shearling Rams
£604.73
Report submitted by Ailsa Dickinson