Sale Report for Welshpool Market on September 18, 2021
Joy Rider brings joy to Welshpool
Continuing the trend this year of males topping sales, lot 510, Danygraig Joy Rider rode all the way to winning both the pre-sale show and then taking top price at the sale itself. Brought out by breeders Dylan and Chuck Jones, this January born ram lamb sold for 400gns, in a sale ring that was very sparse in buyers. Taking the show champion home was buyer Phillips, Llandrindod Wells. 
Making the long journey up from Surrey worthwhile was lot 501, Greyland Gatsby. The only senior ram to find a new flock, he achieved the second highest price of 360gns for breeders Caroline & Cameron Clark, and makes a much shorter journey to his new home with Kelly Ann Pugh, Tywyn. 
Leading price for the females, and 3rd top price overall, was another cracker of a lamb consigned by the Jones'. Danygraig Jakara took the Female Championship and reserve overall Champion and made 340gns. This was paid by Wassink, Ludlow. 
Like the senior rams, only 1 shearling ram sold – lot 507, Blakemans Harri. Bred By Master Iwan Blakeman, and realising 200gns, he has made a very short trip across the border to Shropshire with Messrs Veenstra.  
The second, and only other, ram lamb to be sold was lot 515, Otterden Jumbo. Another long journey, this time from Kent, for this chap resulted in a sale of 180gns for his very newly-wed breeder Gail Gribble (nee Shrubsall), and ironically he's returning all the way back to the south of England with Caroline & Cameron Clark. 
Of the 3 senior ewes forward, lot 522, Cynefin Enid, consigned by Kelly Ann Pugh, topped this section at 270gns. She's gone away to west Wales with Lewis, Aberystwyth.  
Shearling ewes peaked at 320gns, this being the price paid for lot 523, Henblas Honour, bred by Miss A G Bullen, and away to Alexandria, Scotland with Brian Gibson. Miss Bullen also had the only other shearling ewe forward, lot 524 Henblas Hannah, who chased her stablemate home with a final price of 290gns, and another away to Aberystwyth. 
Second top price of 300gns in the ewe lamb section was achieved by lot 534, Tyn Twll Jupiter. Bred by Mrs G Williams, she has joined the Otterden flock of Gail Gribble. Next, at 270gns, came lot 550, Dysinni Jinny, for Kelly Ann Pugh, and another way up over the border, this time with P Walton, Dumfries. Rounding off a very good day at the office for Dylan & Chuck Jones was lot 547, Bunshill Jasmine. She made 260gns and is another away to Ludlow with the Wassinks.  
Thanks go to Vincent Davies for judging the show, and to Gillian Blamire, Anne Robinson and Joan Rowlands for inspecting, scribing and stewarding. 
Averages 
Senior Ram 360gns 
Shearling Ram 200gns 
Ram Lambs 290gns 
Senior Ewes 190gns 
Shearling Ewes 305gns 
Ewe Lambs 162gns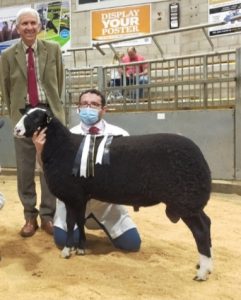 Lot 510, Danygraig Joy Rider. Show Champion and top priced sheep
Report submitted by Anne Robinson