The Champion of the Northern Region Young Ambassador Competition 2014 was awarded to Tom Blamire from the Whinnow flock in Carlisle. From Northumberland Show in Bywell to Penrith Show in Cumbria Tom has travelled to shows across the Northern Counties securing excellent wins in both breed classes and Young Handlers. Not only did he show outstanding commitment to producing his show team, anyone having a conversation with Tom will be in no doubt that he is very knowledgeable about Zwartbles.
Reserve went to Harry Preston and his Bingheleia Flock based in Bingley Yorkshire, showing sheep at local and county level shows across Yorkshire Harry has done consistently well with his show team, particularly with the ewe lamb.
The future of the breed is in our young members and the Northern Region are fortunate to have so many knowledgeable and competent members to promote the breed.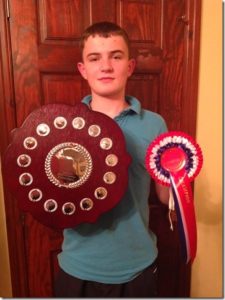 Tom Blamire – Whinnow Flock, winner of the 2014 Northern Region Young Ambassador Competition
 The Northern Branch intend to continue and support this competition next year and welcome entries from all our Northern region junior members.